.
Racine, WI. The new year in mixed martial arts was, for the second year, brought in with a standing room only crowd of screaming fans. The Racine Memorial Hall was bulging at the seams for Dave Strasser's Freestyle Combat Challenge.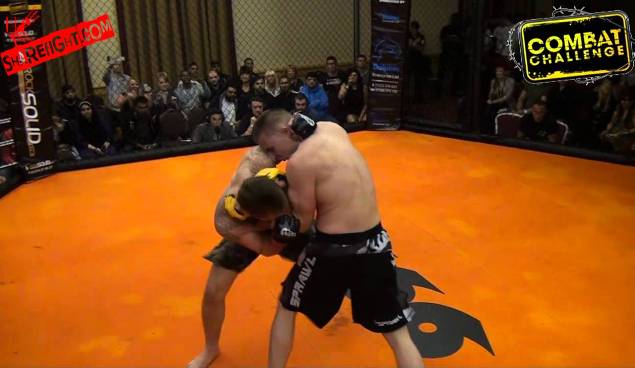 Dave Strasser has done a great job of bringing mixed martial arts to the public. They have responded, in kind, by turning each of his events into a sell outs. It does help that Dave goes to great lengths to make sure he presents good and exciting matches.
Out of the ten fights slated for FCC 9, only one went to decision and four were decided by knockout, four were by tap out and one by injury stoppage. The crowd responded with cheers and applause to this well rounded night of mixed martial arts.
Two of the Freestyle Academy's fighters, Ty Chaco and Nick Nickolson, had mixed results in the first two fights of the night. Ty Chaco was force to tap when Jorge (Santana) Barraza locked in a triangle choke that Ty could not escape from. Nick Nickolson won his match by submission, to strikes from the mount, over Doug Murray.
In the only decision of the night, Darrell Smith won the very evenly matched fight with Bart Palazuski. This decision could have gone either way. Gideon Ray continued his winning way in his defeat of Matt Shaw by submission to strikes. Justin Wieman has showed continued improvement over the last year and came away with a sound defeat of Richie Montgomery.
One of the surprises of the night was a seven second knockout of veteran, Brian Geraghty, by newcomer Tom Kirk from Integrated Fighting. Kirk is a fighter to keep your eye on. He is strong, well balanced and very hungry.
The unlikely TKO of Jason Rigsby came about when Rafael Pszczek stunned Rigsby long enough that the referee stopped the match for non-defense. Those that know Rigsby were stunned because of reputation of being able to take a punch.
Solomon Hutcherson made short work of John Nashef when he force him to tap from knees to the head in under two minutes.
Crowd favorite Ron Faircloth may have come back too soon from his arm injury, suffered in September. It took less than a minute for Kyle Olson to lock in a triangle choke and force him to tap.
In the last fight of the night, Jonathan Ivy took on Adonis Nunn. This was a super heavyweight match. Ivy weighing in at 250+ and Nunn weighing in at 325+ had people shaking there heads. From the beginning Nunn used his superior weight to dominate position but could not do anything with it. Ivy could not over come the weight factor and was virtually pinned underneath Nunn for most of the first round. In an ill advised move at the start of the second round, Ivy ended up landing on the back of his neck and sustained enough of and injury for the referee to stop the fight. Nunn was declared the winner.
Freestyle Combat Challenge was a model of organization and the crowd was a promoter's dream. Well mannered the crowd was enthusiastic but controlled. The well matched card kept everyone's attention throughout the entire night.
Dave's next show will be on March 22nd. If you are anywhere near Racine, get over to see the best mixed martial arts event in Wisconsin. See you there!
Related Fight Posts