.
*****Ranking Boxing's Best Knockouts of 2014 so Far*****
I told us:
Knockouts can transform good boxers into stars and stars into pay-per-view kings. Mike Tyson and Manny Pacquiao are great examples of how the art of the knockout can lift boxers into rock star status.
Not only do the fans like to see knockouts, it's beneficial for the boxers as well. Unfortunately in boxing we spend as much time talking about bad scorecards as we do great performances. Boxers who are able to knockout their opponent and take the decision away from the judges will always be more successful.
You can't trust the judges to always pick the correct winner; Pacquiao knows that truth as well.
In determining which knockouts would make the list and how to rank them, I considered three factors: What was at stake, if the knockout secured a comeback after the boxer trailed and the overall "wow factor" of the punches or combination of punches that put his opponent on the mat.
For the purposes of this article I'll consider boxers who also won by TKO or by the referee stopping the bout since the fight was still stopped early and the winning boxer would have likely won by knockout if it had continued.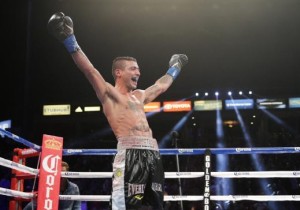 Thank you for your attention 🙂
http://bleacherreport.com/articles/2136380-ranking-boxings-best-knockouts-of-2014-so-far
Related Fight Posts