Racine, WI The new year got off to a bang, in the Midwest, with Dave Stasser's "Freestyle Combat Challenge." Even with last minute drop outs, Dave was able to put ten hard-hitting explosive fights on the card. Fighters from Illinois, Iowa, Wisconsin and Canada were in the wings to see if they had what it took to win.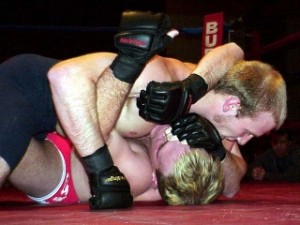 All basic rules were in place. Each fight was scheduled for three five-minute rounds. Paramedics were at ringside, just in case.
Fight #1: Jason Flack, Hackney's Reality Combat vs. Dan Hart, Roscoe, IL
The first round started with an armbar attempt by Flack that was broken up by Hart slamming Flack to the mat. Strikes and reversals were the order for this round. Both fights landing and receiving strikes. The second round was all Hart. After a missed roundhouse kick by Flack, Hart shot in on Flack and took him to the ground. Hart established side control and was able to land strikes and knees to the head. At 2:38 into the second round, Flack made the decision to tap out.
Fight #2: Josh Robinson, Hackney's Reality Combat vs. Dan Houston, Bentendorf, IA
It took thirty seven seconds for Dan Houston to get Josh Robinson's back and locked in a rear choke for the win.
Fight #3: Tony Day vs. Travis Fulton
The experienced Fulton has absolutely no problem with Tony Day. Dominating the entire fight, Fulton seemed to play with Day for the one minute and 24 seconds this fight lasted. Fulton finally put Day out of his misery by knocking him out.
Fight #4: Rob Wynne, Kingston Ontario Canada vs. Pat O'Malley, Madison, WI
An attempt by O'Malley to trade strikes with Wynne failed when Wynne shot in to take the fight to the ground. A rolling reversal brought O'Malley to the mount but he was only able to land a few strikes before Wynne reversed in the corner. Both fights were then jockeying for position when Wynne spun and attempted an armbar so fast that O'Malley was not able to counter. O'Malley tried to fight off the armbar with his strength but Wynne's position was too strong and he locked in the armbar for the win at 1:42 in the first round.
Fight #5: Terry Scott, Waterloo, IA vs. Scott "Mad Dog" Malicoat, Roscoe, IL
Malicoat manhandled Scott getting his back almost immediately. Malicoat locked in a rear triangle but Scott refused to tap, trying to punch to Malicoat's head. The triangle did its job and Scott passed out at thirty five seconds into the first round.
Fight #6: Moto Asai, Green Bay Jiu-Jitsu vs. Gideon Ray, Hackney's Reality Combat
This was the most evenly matched fight of the night. Both fighters showing high levels of technique. While there were strikes and kicks landed, the infighting for position was the highlight of this match. Both fighters were constantly moving always striving for the that one position that would give them the advantage. That position came when Ray was able to apply an ankle lock at 2:18 into the second round.
Fight #7: Josh Stamp, Bellplaine, IA vs. Aaron Arnsmeier, DeKalb, IL
Two different fighting styles were involved in this match. Stamp went with grappling approach while Arnmeier favored striking. In this case, striking won out by wearing down Stamp until Arnmeier was able to lock in a choke for the win. Time 3:05 first round.
Fight #8: Rory Prazak, Mannly, IA vs. Nick Agallar, Kenosha, WI
Agallar exploded out of his corner to knock Prazak to the ground and rain strikes down for the win in just 16 seconds into the first round. This was the shortest fight of the night.
Fight #9: Bryan Robinson, Waterloo, IA vs. Ron Faircloth, Staughton, WI
Faircloth was a steamroller with Robinson the pavement. Faircloth drove Robinson to the ground in his own corner and pummeled him with strikes for the tap. Time 0:36 first round.
Fight #10: Michael Marshalleck, Kingston Ontario Canada vs. Ben Rothwell, Kenosha, WI
Rothwell is well known for his punching ability. He gave the crowd a demonstration in his match against Marshalleck. Scoring a TKO in thirty-eight seconds, Marshalleck never knew what hit him.
For an event held so close after the holidays, this show had a surprisingly large and enthusiastic crowd. It just shows that Dave Strasser has developed a reputation for exciting events. He did not disappoint the crowd on this night either. Most of the spectators we talked to thought it was a great show. Wisconsin has good fighters and with shows like Freestyle Combat Challenge, your get to see some of the best. We don't know when the next will be but you can be assured that we will be at ringside when the bell rings.
Related Fight Posts