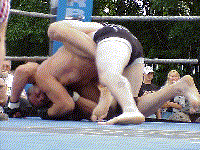 Canton, IL--With all the termoil in Chicago with mixed martial arts, some central and southern Illinois events are flourishing. The Silverback's All Pro Classic has established itself securely as good venue for up and coming fighters. The show's promoter, world class fighter, Phil Johns, has established an air of clean sports competition worthy of the entire family.
This particular edition of the Silverbacks All Pro Classic was billed as the Clash of Champions. It featured sixteen matches of NHB and Ironman Boxing combined. There were three title bouts which included a super-heavyweight Ironman boxing match. Fighters from Illinois, Iowa, and Wisconsin showed up to provide the audience with a great night of fighting.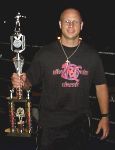 Ironman boxer, Greg Ford, not only won his original bout but won a second bout when he volunteered to fight again, to keep the show going, after another fighter dropped out. At the end of the event, he was voted boxer of the night and given a trophy to mark the night.
The Ironman Super-Heavyweight Title was battle between two Goliaths. Kelly Komoroski, Sheboygan, WI, and Sheldon "The Hell Raiser" Kidd, Canton, IL collided like two runaway freight trains. Crowd favorite, Kidd, immediately established domination and was able to get a TKO of Komoroski.
The mixed martial arts bouts showed no less heart and skill. Ron Wilson, Davenport, IA, and Nate Zieger, Milwaukee, WI, battled for almost 10 minutes before an injury to Wilson forced the fight to end. Wilson was showing good technique that countered-balanced Zieger's, strength and speed based, attack.
The middleweight title bout had Derrick Noble, Cuba, IL, defending his title against Jeffery Snyder, Ottawa, IL. This fight had everything. Strong strikes and constant moving ground techniques took both fighters back and forth from domination to defense. After 13 minutes a grueling action, Derrick Noble retained his title by split decision.
UFC veteran, Arian Serrano, was matched against up and coming Jason Rigsby, Ottawa, IL for the Light-Heavyweight title. The intimidation from veteran, Serrano, had very little effect on Rigsby. Rigsby came out of his corner throwing high intensity strikes making Serrano force the fight to the ground. Serrano was able to dominate most of the ground time but Rigsby's strength and speed kept him from finishing with a submission. Rigsby gave Serrano all he could handle on this day. The fight went the distance with Serrano edging out Rigsby by judges decision.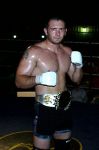 The fight between Serrano and Rigsby was so good that Rigsby was selected fighter of the night. Rigsby more than deserved the award. Never asking for or giving quarter, Rigsby fought like a warrior on a mission.
The last fight of the night featured Phil Johns against Roger Moron, Centerville, IA. Moron took the fight at the last minute when Phil's original opponent cancelled. Though not really ready for Phil, Moron gave it a gallant try for about two minutes until Phil was able to submit him.
Local events of this caliber are grass roots of the mixed martial arts sport. Without competitions such as these, fighters would not gain the experience and recognition necessary for the larger, more publicized events. Local audiences have the chance to get to know the sport. This helps the national and internation competions gain the recognition needed sponsorships. Canton has welcomed MMA with open arms and continues to support the efforts of fighters all over the Midwest. The Silverback's All Pro Classic is one of the essential events needed to move the sport forward in the United States.
The Best Kicks in MMA


More information:
Heavy duty magnetic hooks

www.magnet4sale.com

.

Скю новости

lviv.sq.com.ua

.

Vêtements automne

www.decouvrevetement.com

.