Thomas Dulorme Eyes Mauricio Herrera Showdown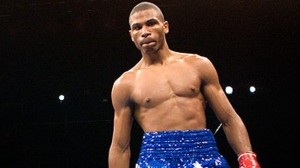 This is a legal waiver. By copying and using the material from this article, you agree to give full credit to BoxingScene.com or provide a link to the original article.
By Ryan Burton writes this:
BoxingScene.com caught up with junior welterweight contender Thomas Dulorme (21-1, 14KOs) shortly after Mauricio Herrera (21-4, 7KOs) captured the WBA junior welterweight interim title in Las Vegas on the Canelo Alvarez-Erislandy Lara pay-per-view undercard.
While most of the world was focused on the main event, Dulorme revealed that he was most interested in Herrera's title winning performance against Johan Perez.
"I came to Las Vegas to see that fight more than the Canelo and Lara fight. I wanted to see about a possible future fight with Herrera. I think that it would be a great fight, Mexico versus Puerto Rico," said the Carolina, Puerto Rico resident.
Dulorme is currently in California training at Robert Garcia's RGBA gym. He said that the current plan is for him to take a stay busy fight in August and then he hopes to land a bigger fight.
"I am in Oxnard and I have already started training. I might be back fighting on August 30th in Puerto Rico. That isn't set in stone but it's the plan for now," Dulorme told BoxingScene.com.
Article Link here - http://www.boxingscene.com/thomas-dulorme-eyes-mauricio-herrera-showdown--80161?#ixzz3880Aoz4c
Thank you!!
Related Fight Posts