Jeff Eisenberg writes for us:
VENTURA, Calif. — Moments after going five rounds with a sparring partner who outweighed him by nearly 25 pounds last month, David Rodela climbed out of the ring, walked directly to the closest mirror and assessed the damage.
"You got me good," he told Abraham Lopez, pointing to a welt near his Adam's apple. "I don't know if that was a jab or a hook, but I'm going to feel that one later."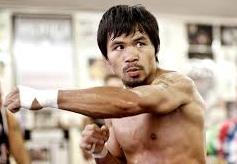 Bruises like that hardly faze Rodela anymore because he has endured far worse pursuing a line of work in which he gets beaten up for a living. The 31-year-old boxer is a professional sparring partner, one of the least glamorous and most punishing jobs in sports.
For the past decade, Rodela has enthusiastically strapped on headgear, pulled on gloves and exchanged punches with some of the best boxers in the world, a list that includes Manny Pacquiao, Antonio Margarito, Victor Ortiz, Zab Judah, Ricky Hatton and many others. Pacquiao in particular has utilized Rodela as a sparring partner in preparation for most of his major fights for the past decade because of the California native's stamina, durability and ability to mimic the style and tactics of an upcoming opponent.
Though a flurry of recent losses have dimmed Rodela's hopes of hoisting a title belt of his own someday, carving out a niche as one of boxing's most coveted sparring partners has eased some of his disappointment. Rodela may never achieve the individual success many projected when he turned pro in 2004 after a decorated amateur career, but he still feels he has enhanced his legacy in the sport by contributing to Pacquiao's emergence as an eight-time world champion and one of the best fighters of his era.
"I take a lot of pride in what I've accomplished," Rodela said. "I didn't win a world championship, but I think I've made an impact in the sport of boxing. Everyone knows who Muhammad Ali is. Who wouldn't want to say he helped Muhammad Ali become a champion? I've done that except it isn't Muhammad Ali. It's Manny Pacquiao, the Muhammad Ali of my era. Other people might be like, 'Dude, that's what you want?' Well, in my book, I'm happy with that."
If it seems odd for Rodela to share in the glory when one of the boxers he spars with scores a big win, consider the sacrifices he has made to help make those victories possible.
He withstood eight weeks of sparring with a fractured jaw in 2009, thanks to a vicious left hand from Pacquiao on the first day of camp. He endured some one-sided beatings earlier that same year trying to learn to fight left-handed after Ortiz asked him to imitate a southpaw welterweight. A few times, Rodela has even accepted invitations to spar with 200-plus-pound heavyweights even though he typically fights in the 135-pound lightweight division.
Although Rodela receives as much as $1,200 per week while in camp with Pacquiao or other fighters, those paychecks have come at a steep price. Spending so much time studying film of other fighters and imitating them in the ring has caused Rodela to slowly lose his own identity as a boxer, contributing to his slide out of the lightweight and super featherweight title pictures during the past four years.
"His ability to imitate a lot of styles is kind of a blessing and a curse in some ways," said Joseph "Hoss" Janik, Rodela's trainer at Knuckleheadz boxing gym in Ventura, Calif. "He's not really sure who he is as a fighter anymore. Talent-wise, he's probably one of the top two or three talents I've worked with in my career, but it has helped him more with his sparring than it has translated into his fighting career. Deep inside, he probably wishes he'd focused a little more on himself."
The path Rodela has taken is a rarity in a sport in which sparring partners typically are up-and-coming boxers seeking to learn from a more experienced fighter or to prove themselves in the ring. Most boxers on the outskirts of the title chase retire by age 30 because the meager paydays for low-profile fights aren't worth the pounding their bodies take.
There are two reasons Rodela has continued to pursue boxing when others might have already quit: The thrill of having his hand raised after victories is still the ultimate adrenaline rush for him and he hasn't left himself many fall-back options to make a living outside the sport.
Unable to read or write as well as his peers as a result of suffering from dyslexia, Rodela fell behind in school and eventually dropped out without earning his high school diploma. The first-generation Mexican-American quickly came to view boxing as the only way out of his hardscrabble neighborhood in working-class Oxnard, Calif., an outlook reinforced by a visit to a temporary job agency at the same time as he was trying to get his professional boxing career off the ground.
One section of the application was too complex for Rodela, so he asked his wife to read him the question and write the answers that he dictated. An agency staffer spotted Rodela's wife filling out the application for him and quickly made it clear that wasn't allowed.
"The lady said, 'Hey, hey, around here we're all big boys and we all write our own papers,'" Rodela recalled. "She didn't know better, but I just got so angry inside. It drove me crazy. I crumpled up the paper and threw it back at her."
Fortunately for Rodela, he had enough natural ability as a fighter that professional boxing wasn't as unrealistic a goal as many of his skeptical teachers and career counselors thought.
Having transitioned from kickboxing to traditional boxing at age 11, Rodela quickly began demolishing other top young fighters and ascending the U.S. rankings in his division. The long, lanky Rodela eased his nerves before big fights by approaching them like a game of tag, making it his goal to catch his opponents with a hard left or right hand and then move too nimbly to let them touch him.
Success came so easily to Rodela as a youth that his work ethic suffered as a result.
Since his parents didn't have enough money to go on family trips, Rodela viewed out-of-state amateur tournaments as the closest he'd come to taking a vacation. Instead of spending his time dieting and conditioning to make weight, he'd go sightseeing, eat greasy foods and then take his chances against bigger boxers at a higher weight class.
"These kids would be running around the parking lot trying to make weight and I'd be eating pizza or McDonald's or whatever I want," Rodela said. "Then I'd show up the next day and win the whole thing. People were like, 'You lucky bastard,' but I wasn't going to stress. I was enjoying myself."
The wakeup call never came for Rodela during an amateur career that culminated with a U.S. national lightweight championship and a berth in the 2004 U.S. Olympic Trials. Only after a near-tragic accident later that year did Rodela's mentality finally change.
As Rodela drove home from a friend's house in Santa Barbara in the wee hours of the morning on April 4, 2004, he dozed off at the wheel, lost control of the car and woke up just in time to brace himself as the vehicle careened into a pole and a wall. The collision shattered Rodela's right femur so badly that doctors initially broached the idea of amputating and later told the boxer he'd probably never walk again even after they managed to save his leg.
Holed up in bed for months following the accident, Rodela relied on his younger brother to bring him food and help him bathe and use the bathroom. He never lost hope of resuming his boxing career, however, eventually making his professional debut a mere nine months after the accident and earning a draw despite fighting with his right leg dragging behind him.
"One silver lining from the accident was it gave David an appreciation for being able to do simple stuff like running and jumping rope," Janik said. "He always says, 'I can't imagine what I'd have been like as an amateur if I'd have trained hard.' He was always so talented that when his coach told him to run, he'd go sit on the curb, splash some water on his face and come back. After his accident, as soon as he could walk, he was walking. As soon as he could jog, he was jogging. So it humbled him a lot."
Rodela's professional career was still in its infancy when a combination of naivete and bravado resulted in his first sparring session with Pacquiao.
When a couple of men showed an interest in sponsoring Rodela soon after his return from the shattered femur, he tried to make himself sound like a big shot by telling them he planned to go spar at the prestigious Wild Card Boxing Club in Los Angeles. That quickly backfired when the men called his bluff and asked to go with him, forcing Rodela to look up the gym's address on a search engine, show up unannounced, introduce himself to acclaimed trainer Freddie Roach and beg him for a chance to spar.
Roach asked Rodela for his height and weight before stunning him with an offer he never expected. He told Rodela to come back in a couple hours if he wanted to spar with Pacquiao.
"I go, 'Am I good enough?' Rodela said with a chuckle. "He says, 'I don't know. We'll see.' Part of me was happy because the sponsorship guys got excited, but inside I was scared [out of my wits]."
Rodela performed well enough in that initial sparring session with Pacquiao that Roach invited him back a second time to go two rounds. That time Pacquiao dropped Rodela with a ferocious left hand in the first round, but the 22-year-old impressed his famous counterpart by insisting they keep going.
"I told him, 'I need another round to get even,'" Rodela said. "He just smirked like this dude's crazy, but after the second round, he told me, 'I like you. You've got a lot of heart. I want you to be part of my team.'"
That invitation sparked a decade-long partnership between Pacquiao and Rodela that has proven fruitful for both men. Rodela has sometimes put aside his own aspirations to help Pacquiao prepare for upcoming fights. And Pacquiao has made sure Rodela knows his sacrifices aren't taken for granted.
Pacquiao has flown Rodela to and from his fights on his charter jet, invited him to his pre-fight meals and paid for floor seats for him and his friends. Pacquiao has also gone out of his way to visit or call Rodela or Janik after a fight to thank them for their assistance. In 2011, Pacquiao went so far as to give Rodela the ultimate wedding gift by writing him a check for the down payment on a new house.
The long-term relationship between Pacquiao and Rodela caught the attention of other elite fighters seeking a dependable sparring partner. Even now that he's in his early 30s, Rodela is still in such demand that he can charge more than $1,000 a week for his services, double or even triple what many sparring partners receive for similar gigs.
"David is good at imitating styles, his chin is probably the best I've ever come across and he won't try to take your head off," said Francisco "Chia" Santana, who sparred with Rodela in preparation for a June fight. "A lot of sparring partners try to knock you out and make a name for themselves, but David doesn't do that. He's very loyal to the camp and very respectful. He'll bring it but he knows when to pull back too."
There was a point in Rodela's career when it seemed like he could have it all — a partnership with Pacquiao, a reputation as a gifted sparring partner and the chance to contend for a world title of his own. Rodela toppled former featherweight champ Kevin Kelley in August 2008 and won his next three fights, setting up a key matchup with unbeaten Eloy Perez in January 2010 at the Hard Rock Hotel and Casino in Las Vegas.
Perez won a unanimous decision that night, vaulting himself briefly into title contention and sending Rodela's career into a tailspin. Rodela struggled to regain his confidence and identity as a boxer, only winning two of his next 10 fights after that defeat until a victory earlier this month.
The losses caused Rodela to ponder retirement and focus exclusively on his other job as a youth boxing coach for the city of Oxnard, but so far his passion for the sport has always pulled him back. The allure of reeling off a few wins and ending his career on a better note is one draw, as is the fact that his phone still rings every week with offers from fighters seeking an experienced sparring partner.
As Rodela enters the sunset of his boxing career, one of his other priorities is working with his two sons to make sure they have an easier path in life. One of the biggest lessons he imparts is to work hard in school so they have more options than he did. Another he frequently emphasizes is to be tough enough not to quit when something is difficult.
Rodela's eldest son had just begun dabbling in boxing a few months ago when he attended one of his dad's clinics in Oxnard and challenged the biggest kid in the class to spar for two rounds. When the younger Rodela predictably got knocked down in the first round, he looked at his father with tears welling in his eyes and said, "That's it, Dad. I'm done."
The older Rodela would have none of it.
"How many rounds did you ask for?" Rodela asked his son. "You asked for two and you always finish what you start."
Rodela's own career as a sparring partner epitomizes that lesson. From black eyes to bloody noses to broken bones, nothing has convinced him to give it up.
It's from here:
http://sports.yahoo.com/blogs/boxing/toughest-jobs-in-sports--sparring-partner-for-manny-pacquiao-122128508.html
And look this:
Manny Pacquiao vs Amir Khan sparring partner of both on who is faster EsNews

Related Fight Posts