.
Tyson Fury dismisses misconduct charge ahead of Chisora heavyweight fight
LISTEN :
Tyson Fury insists preparations ahead of Saturday's showdown against British heavyweight rival Dereck Chisora will not be derailed by a misconduct charge.
Fury launched a string of expletives at Chisora and one of the journalists in attendance at a London press conference last week to promote the clash at Manchester's Phones 4u Arena.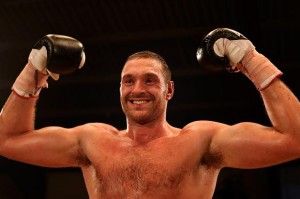 The 25-year-old has been summoned to appear before the British Boxing Board of Control on August 13 as a result of his antics but claimed he was "not interested" in the charge and does not regret the behaviour that prompted it.
On Thursday the BBBofC released a statement saying that after considering what happened, it had decided to call the Manchester-born fighter to a meeting "under Regulation 25 (misconduct)", adding that "failure to attend this hearing will result in Mr Fury's boxer's licence being suspended."
Fury said: "I'm not interested. They can charge me with whatever they want, it doesn't mean anything to me.
"What do we suppose they are going to be doing - fining me or suspending me? I'm not interested.
"I pay the board their wages. Keep being mean to me, and I will look elsewhere to pay someone else some wages."
Prior to the BBBofC statement being issued, Fury had apologised for the way he had acted, posting on social media: "I apologise for my ungodly actions @ the press Recently with @dellboychisora there was no bad feelings or Intentions. Just a show,#forgiveme.
"Boxing has been good to me it has brought me Security,Health,&kept me out of trouble, I thank every1 who has been Involved in my career. Xxx"
But he was in a less repentant mood on Monday as he conducted interviews at a media session in Bolton in the final build-up to the contest, which takes place on Saturday at Manchester's Phones 4u Arena.
"It is what it is," Fury said. "I say what I say and I do what I do. I don't regret it - I mean everything I say and that is it.
"I'm not the kind of man to say something and not back it up. I said what I said, I do what I do and I'm proud of it.
"No-one is going to stop me from doing anything I want to do. That is the way I roll.
"I don't do anything criminal, so I'm not going to get taken away in a set of handcuffs.
"This is boxing - showbusiness, entertainment. I do what I do and say what I say to build big fights and if I was 'Mr Quiet', nobody would be interested."
Fury (22-0, 16 KOs) and 30-year-old Chisora (20-4, 13 KOs) will contest a final eliminator for the WBO title which is currently held by Wladimir Klitschko, also the WBA and IBF champion.
Chisora's European belt and the vacant British title will also be up for grabs on Saturday. The pair met first time around in 2011, with Fury triumphing on points.
What doyou think ?
Tyson Fury Interview| Intense, Islam, Chisora| Be Real TV|Muslim?
Related Fight Posts