KOKOMO, IN--Last year, Donnie Michaels brought us the first Cage Rage in Kokomo and surprised everyone with a well organized and exciting show. A crowd of over 1600 watched Kokomo's first mixed martial arts show.
This year Donnie hooked up with partner, Terry Gruel. The combined effort proved to be even more of a success. Cage Rage II at the Johanning Civic Center was packed with a paid attendance of over 2500 screaming fans of mixed martial arts. On hand to lend their support to the event was Mark Coleman, Jason Godsey, Kevin Randleman, Adrian Serrano, and Dan Severn.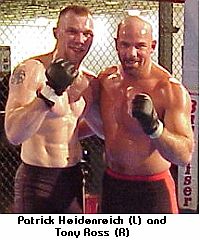 The audience was treated to four four-man tournaments, 3 single matches, an ISCF Indiana State Amateur Middleweight Title match, and two super fights featuring veterans of Pancrase, Hook-N-Shoot, and Danger Zone.
The first superfight was a match up between Jake Ambrose, Total Combat winner, and Chris Lytle, Pancrase and Hook-N-Shoot veteran. Chris took charge from the beginning with side control and raining hard lefts to Jake's head seemingly at will. Jake defended but was overcome by strikes at 3:15 into the first round and had to tap.
The second superfight was a war between strength and stubbornness. Tony Ross, Pancrase Veteran, and Pat Heidenreich, Danger Zone Veteran, fought for three rounds, a total of fifteen minutes. Tony dominated from the top position pummeled Pat with strikes and kicks that would have any normal fighter tapping in seconds.
Pat Heidenreich is not your normal fighter! He is warrior with the determination to win regardless of how much punishment he has to endure. Pat was always trying to find that one opening that would give him the advantage over Ross. Unfortunately for Pat, Tony Ross never gave away the opening needed for the win.
In a unanimous decision, Tony Ross was declared the winner of the fight. The two fighters congratulated each other and even took time for a picture together before leaving the ring.
In the ISCF, International Sport Combat Federation, Indiana State Amatuer Middleweight Title match, Todd Kiser, Muncie, IN, won the match by knockout three minutes in to the first round. His opponent, Chad Wagoner, Kokomo, IN, lost consciousness momentarily from a knee to the head and the referee stopped the fight. Adrian Serrano, representing ISCF, made the belt presentation to Kiser.
Controversy erupted in the heavyweight tournament finals when, after tapping Arron Sullivan with a keylock, Nate Buris was disqualified by referee, Eugene Talbott, when he did not break immediately when Sullivan tapped. Talbott had made no physical attempt to separate the two intense fighters other than to put a hand on Buris to get his attention. Buris did release after a second spoken communication by Talbott. A Poor decision on the referee's part and an over passionate appeal by Buris' corner lead to a verbal confrontation between Mark Coleman and Eugene Talbott.
Nate Buris, who trains out of the Hammer House, was cornered by Mark Coleman and Kevin Randleman. Coleman took extreme exception to the disqualification, loudly, arguing that you have to physically break up the combatants. He noted that Talbott had his background in Karate not NHB and that traditional rules did not apply. Coleman said, "This is not a point Karate tournament. It is the real thing and intense fighters sometimes need to be physically separated at the end of the fight. The referee is using 'Point Karate' standards in a NHB fight. While being honorable, they are not practical in the heat of battle that is NHB." Mark felt that Talbott should have reversed his decision once he realized his mistake.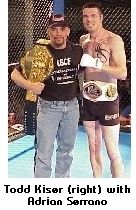 The argument was totally verbal but it had security on their toes for a potential break out of hostilities. Adequate security was able to keep everyone separated and the incident soon settled down enough for the night to continue.
We noted a return to the ring of Carlos "The Rock" Perez , Merrillville, IN, after an injury had sidelined him since last November. Carlos won a split decision over Rus Johnson, Kokomo, IN.
One of the most exciting fights of the night was a single match between Josh Mason, Peru, IN, and Miguel Torres, East Chicago, IN. Mason's aggressive strength based attack against Torres' patient punishment, ready to pounce, style made for a great fight.
Josh Mason came out charging from the beginning and shot in to take Torres down. Torres was able to get Mason in his guard and fight off any attempts at submission all the while landing axe heels to the back of Mason's butt and legs. Any pause or hesitation, on Mason's part, was taken advantage of immediately with a reverse by Torres.
It came to an end when Torres was able to sink a triangle choke that he had been working on most of the second round. With just 20 seconds left in the second round, Mason was forced to tap due to lack of oxygen.
Later that night, at the after-fight party, Josh and Miguel were at the pool table laughing and shooting pool. Josh said, "Miguel kicked my ass in the ring but I'm going to kick his on the pool table."
Related Fight Posts