Apostille birth certificate

We process apostilles for a variety of public documents - apostille birth certificate.

multichoiceapostille.com
.
Online casino real money

thebestccasinosusplayers.com
.
Real money casino

online-casino-wib.com
.
Hammond, IN Ultimate Athlete, the newest addition to the mixed martial arts news, made it's maiden voyage into fight promotion with "The Genesis" at the Hammond Civic Center in Hammond, IN. UA went all out to bring the public an audio and visual extravaganza that they would not soon forget. A combined card of local and national fighters brought interest from all over the country.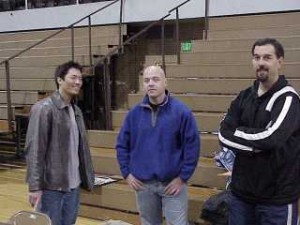 Ultimate Athlete gave this area the most extravagant production we have ever seen at a mixed martial competition. The quality of bouts along with the presentation raised the bar of expectation for future events in the area. It will be hard for local promoters to better or even match UA's "The Genesis" event.
With the help of Paul Erickson from Texas Mixed Martial Arts the following are descriptions of the fights that night. All bouts had a format of 3 rounds of minutes each.
Light Heavyweight Bout: Stephan Bonnar Vs. Jay Massey: Bonnar by Guillotine, 1:09 Round 1. Bonnar didn't have it at first, but adjusted and used his legs to push away properly and it was all over for Massey.
Lightweight Bout: Cedric Stewart Vs. Virgil Strzelecki: Strzelecki by decision. Stewart looked like he was about to have a shoulder separation several times from a deep chicken wing by Strzelecki. Stewart was either extremely flexible or in possession of an inhuman pain tolerance.
Light Heavyweight Bout: Josh Krueger Vs. Roberto Ramirez: KO, :35 Round 1. Ramirez was a last minute replacement. Krueger fired a right low kick and Ramirez fired an overhand right counter right up the pipe and Krueger fell flat on his behind against the ropes. Krueger argued he was not KO'ed, but most at ringside agreed with the referee's judgment.
Lightweight Bout: Cole Escovedo Vs. Bart Palaszewski: Escovedo by tapout, 2:10 Round 1. Escovedo had Palaszewski in a triangle/armbar combo from guard that Palaszewski was defending somewhat, but Escovedo began nailing him in the head with hammerfists from his free hand. The combo of the triangle, armbar, and getting hit in the head all at the same time overwhelmed Palaszewski's ability to defend and he tapped.
Heavyweight Bout: Aaron Brink Vs. Vaughan Palelei: Brink by KO, 1:33 Round 1. Brink nailed Palelei with one right hand that dropped him to the ground in buttscoot position, and immediately dove down from standing and nailed him with a clean follow-up shot to the head that put Palelei out. Brink had a lot more experience and it showed.
Middleweight Bout: Jay Buck Vs. Eddy Rolon: Buck by unanimous decision. Buck's ground and pound was overpowering, Rolon took a beating but fought hard all the way. Rolon could not contain Buck whenever Buck would rear up into base from Eddy's guard to create space and throw bombs... Buck connected with a lot of good shots, tattooing Rolon's head and face.
Lightweight Bout: Jeff Curran Vs. Max Marin: Curran by Triangle, 3:46 Round 2. Marin was super aggressive, but in the end Curran's BJJ skills put Marin into one triangle after another. After several gutsy escapes from the triangle, Marin finally tapped to one last triangle from a persistent Curran.
Light Heavyweight Main Event: Jim Theobald Vs. Homer Moore: Draw. Theobald scored some standing up but could never really get anything going from the bottom, and Moore did little more than take Theobald down and do some token ground and pound. Theobald negated Moore's offense but could not get past his balance and strength.
Welterweight Main Event: Pete Spratt Vs. Steve Berger: Berger by cut stoppage, 2:14 Round 1. Fairly even and had the makings of a classic war up until Berger connected with a knee from the clinch that stunned Spratt and opened a serious cut on the bridge of his nose. Of note also was that Spratt connected with by far the loudest and most painful sounding leg kicks of the night.
We thank Ultimate Athlete for selecting the Midwest to act as host to their first promotion. We wish them well on their next endeavor in California. Hopefully, they will visit us again in the future.
Related Fight Posts